Alarm Monitoring and Response
FIELDS GROUP operates 24hrs a day, 365 days a year.
FIELDS GROUP can supply and install a wide range of security alarms and remote monitoring solutions. We can provide monitoring of your existing alarm systems as part of a package of services for our customers. FIELDS GROUP will provide the alarm monitoring requirements via a Grade A1 Monitoring Centre.
In the event that a monitored alarm is activated, a signal will be sent to FIELDS GROUP's 24-hr Response Centre where staff will action a predetermined response plan, based on your requirements. The operations centre utilises state of the art communications technology and is manned by licensed and highly trained staff.
The standard response plan for activation outside normal hours is for the FIELDS GROUP 24-hr Response Centre operators to dispatch a Patrol Officer to the site. This will take into account of which officer(s) hold keys and the current location of our patrol vehicles which are tracked via GPS.
We can provide our Alarm Response Service independently of our Patrol Service. When your alarm is activated, FIELDS GROUP will attend to the call out, check the site, disarm the alarm and re-secure your site. The benefit of having both a regular patrol and an alarm response service is our Patrol Officers are already familiar with your premises.
Our monitoring services cover: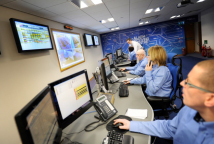 GPS and Ethernet
GPRS Direct Wireless
GPRS Permaconn Outstation
GPRS Multipath
G.S.M Guardcell Direct to GSM Receiver
PostX
HomeLAN Security